Issue No. 68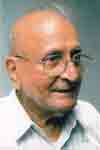 இதழ் 68
[ பிப்ரவரி 27 - எஸ். ராஜம் சிறப்பிதழ் ]

இந்த இதழில்..
In this Issue..

There cannot be another RAJAM.

He told me on January 15th that his strokes with the brush are not as soft as they used to be. He made me paste silk for his future paintings and I got him some paper from Bangkok. I insisted him to finish them all so that I could get him some more in the future. That future would never come by. My heart was heavy when I collected his ashes and bones, in spite of his wish to complete few more pieces of art.

Well, That is life!

I would like to share some of the not well-known facets of my father. He knows almost everything but never claims he knows them all. He was an excellent cook, he would make thin hot coffee, omelet and pudding which no one can match.

He used to stitch dresses for all of us when we were young. Bags, chappels, purse with leather, rexin covering of most of his belongings were done by his hand. He use to cut our hair with proper professional scissors, trimmer machine etc. All the sundry carpentry work would be done by him with his professional tools. He didn't leave out even the masonry work. He would use one fourth of cement, but his work would be more strong and durable.

Keeping everything clean and shinny is his forte. His open type lambretta would always shine like a mirror.

He was a total perfectionist, keeps everything methodically. He would never waste anything - right from water, electricity, food, paper, paste, twine etc. He never traveled in Taxi or Auto. Even in train he preferred travelling in the third class. He would sleep only for a few hours and even while resting would contemplate about his work. He would never indulge in gossip as he felt it was a waste of time & energy – leading to friction.

He earned and multiplied his assets many folds. He did not indulge in lavish spending. Instead he has left all his assets to help the needy through his trust. Some may call him a miser. But the reality is he knew the value of money and time. He lived like a saint – seeking no luxury..

(He was Forced to use a cell-phone for incoming calls against his wishes and he never owned a car or a landline phone till date.)

He played tennis and table tennis when he was in teens and loved to watch live tennis matches. His favorites were Pete Sampras,Steffi graff, Andrew Agassi, John Mcnroe and Martina. He would watch grand-slam finals all night. He loved cricket too. He admired the Westindian Greats like Sobers, Lloyd and Richards.

He adored animals. He would extensively read about them. One could find him watching the discovery channel when he was neither painting nor singing. He loved nature too.

He was a brilliant photographer. He spent quite a bit on this passion. He would develop and print pictures on his own. He could quickly arrange a make-shift dark room. He possessed some costly professional cameras.

He was a voracious reader too. From his young age he did not miss reading a single issue of READERS DIGEST,and NATIONAL GEOGRAPHIC MAGAZINE. He also read a lot books on temples, culture of various countries, ancient civilization, tamil puranas etc.

He has a good collection of pens (Parker, Pelican, Sheffers) and watches (Omega, Faverluba). He would check and adjust all his watches every day. All the pens will be cleaned once a week and will be refilled with Black, Blue,Turquoise blue, Green, Brown, and Red Ink of PARKER.

He must have been one of the few to have recorded his life meticulously in his diary for over 75 years.
5 months before I was born, he had purchased 'kumguma poo' for 12 rupees, and wrote this in on 24th April 1948. When my sister was born he has written all the details with the expenses incurred on that day. From Nov 09, he made my sister to write the diary by dictating her till he was hospitalised on 20th Jan 2010.

He loved his food. He was careful and particular about what he ate. He needed 100 ml of coffee for every three hours. That gave him the energy to go on and on with his work.

He used to cycle 30 kms in a day for more than 15 years. He would finish his music practice sessions while cycling. His legs would have cycled thousands of miles and his hands would have produced thousands of paintings. His brain had stored millions of songs and details. I would always wonder if he was a man or a machine!

His was a wonderful soul that did not grumble even for a second, despite all the hardship. I wonder if anyone can dream to achieve even 10% of what he has done in his life time.

It is my greatest fortune that I was born as his eldest son.

Ram Murthi
this is txt file

சிறப்பிதழ்கள்
Special Issues


புகைப்படத் தொகுப்பு
Photo Gallery

(C) 2004, varalaaru.com. All articles are copyrighted to respective authors. Unauthorized reproduction of any article, image or audio/video contents published here, without the prior approval of the authors or varalaaru.com are strictly prohibited.