We had seen, in an
earlier article by Dr.M.Nalini
in our magazine that elephants were used to execute capital punishments in the prior centuries. A Kanda Padha Miniature sculpture from Thiruvalanthurai Mahadevar temple at Pullamangai reconfirms a similar usage of this giant animal in war zones.
Measuring 20 X 20 cm, this miniature portrays an elephant lifting the offender or, more likely, the opposing armys soldier upside down in mid air, upon specific instructions from the mahout who is comfortably sitting on its neck. A sharp Ankusa - a weapon used to control elephants - is seen on his hands.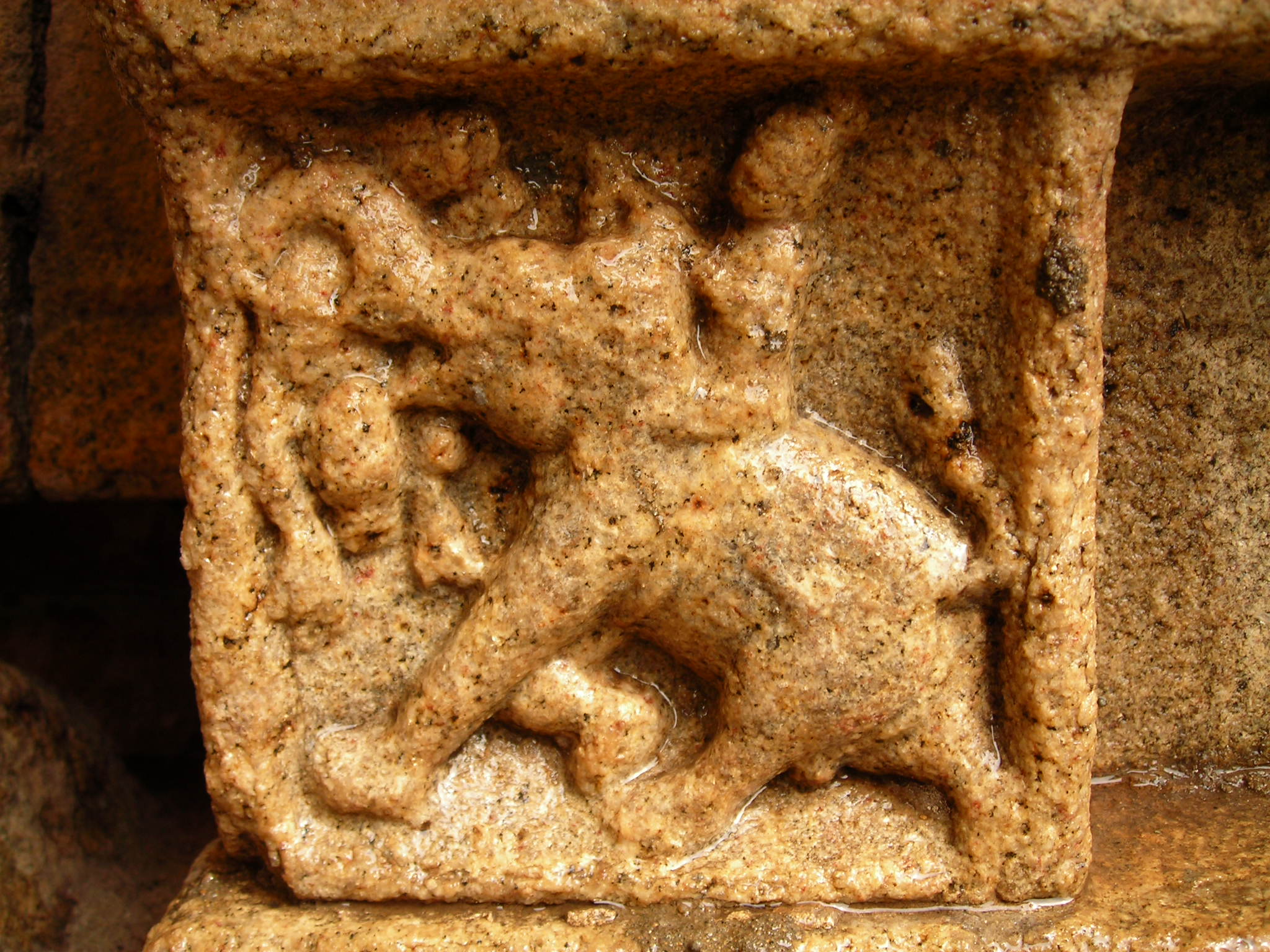 The fast movement of the elephant, probably representing a run or a forceful entry into the enemy's frontier, is represented by its leg postures. The right front leg is bent while the left leg stretches itself in the front. The raised tail and a slightly open mouth capture the fury and energy with which the attack is being conducted. The lift is relatively effortless, as evinced by the trunk movement.
The person who has been caught by the elephant is helpless. He has already lost his arms and is hanging upside down with bear hands. Possibly it was a sudden lift which did not allow the soldier to retaliate. His bent legs have been carefully represented inside the small space allocated for the portrayal. His hair is knotted atop his head (Kondai).
The mahout or the soldier directing the elephant is also seen with the knotted hair on top of his head. His Ankusa is seen touching (hitting?) the front portion of elephant's head.
Inscriptions and traveller accounts of the Cholas tell us that the empire maintained an army of elephants. An inscription from the Rajarajeswara temple complex in Thanjavore reveals a street by name Anaiyatkal Theru (a street for men who maintain elephants) which seems to suggest that a dedicated band of people were involved in maintaining the giant mammals.
This rare depiction from Pullamangai vividly captures the cruelty with which the business of warfare was conducted in yester years.this is txt file